Take a trip unlike any other and become engrossed in Nepal's alluring beauty. This alluring nation, which is nestled in the Himalayas, provides a wide range of remarkable experiences for every tourist. Nepal is a secret jewel waiting to be discovered, with breathtaking scenery and a rich cultural legacy. Join us as we provide eight convincing arguments for why Nepal ought to be at the top of your list of places to visit.
Things every traveler should know before going to Nepal
To have a seamless and pleasurable vacation to Nepal, it's important to be aware of a few practical factors. Here are some things to be aware of:
The Nepalese Rupee (NPR) is the nation of Nepal's legal currency. It is advised to have access to ATMs in big cities and carry a variety of modest denominations of cash. Although hotels, bigger restaurants, and some businesses take credit cards, it's usually a good idea to have cash on hand, especially in more rural locations.
Dress Properly: Nepal is a conservative nation with a rich cultural heritage. It's crucial to dress modestly while attending places of worship. Women are encouraged to cover their shoulders and knees, and both men and women should refrain from donning exposing attire. For the country's varied temperatures, it is advised to wear loose-fitting, lightweight clothing, especially in breathable textiles.
Respect Local Customs: Nepal has a rich cultural past and is a very spiritual nation. It's necessary to show respect when visiting temples, monasteries, or other religious buildings. Before entering, take off your shoes, and respect any local traditions or rituals that may be in effect. Before taking pictures of individuals, especially in more rural locations, ask their permission first because some may find it offensive.
Food and Water Hygiene: Although Nepalese food is delicious and diverse, it is vital to take precautions when it comes to food and water safety. To reduce the risk of foodborne infections, stick to drinking bottled or filtered water and steer clear of eating raw or undercooked food, especially street food. Choose prepared foods and peelable fruits.
Altitude Sickness Awareness: There is a danger of altitude sickness in Nepal's high-altitude regions, such as the Everest and Annapurna ranges. It's important to properly acclimatize, which involves rising gently and giving your body enough time to do so. Keep hydrated, refrain from intense activity at first, and be alert for altitude sickness symptoms including headaches, dizziness, and shortness of breath. If symptoms increase, descend to a lower elevation and, if necessary, seek medical attention.
Environmentalism: Nepal's natural beauty is a resource that has to be preserved. Think about how your travels will affect the environment as a responsible traveler. Avoid leaving behind trash, and dispose of rubbish properly. Carry a reusable water bottle to cut down on plastic waste, and think about backing environmentally friendly programs. Adopt eco-friendly hiking techniques, such as carrying away your garbage and utilizing refillable water fountains.
Travel Insurance and Permits: It is strongly advised to purchase comprehensive travel insurance that includes evacuation, trip cancellation, and medical emergency coverage. Certain hiking destinations, like Upper Mustang and Everest Base Camp, call for specific permits. To guarantee a hassle-free trip, familiarize yourself in advance with the relevant permissions and laws.
Let's now explore this nation's splendors and the things you may do and enjoy there.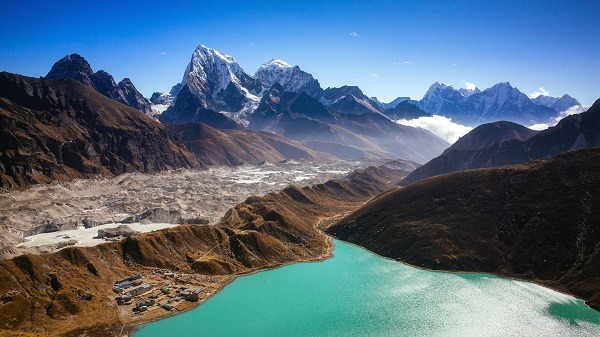 Majestic Himalayan Peaks
Eight of the top ten mountains in the world, including the fabled Mount Everest, are found in Nepal. For hikers and explorers, the Himalayas' breathtaking scenery provides a thrilling setting. Put on your boots and head to the Annapurna or Everest areas, where you'll find breathtaking landscapes, lovely villages, and friendly Sherpa residents.
Cultural Heritage
The remarkable cultural legacy of Nepal is rooted in history and tradition. The nation's capital, Kathmandu, is home to several historic temples, palaces, and lively bazaars. Bhaktapur, Patan, and Boudhanath Stupa are all UNESCO World Past Sites that offer a look into Nepal's rich cultural and architectural past. Explore the spirituality that infuses every area of Nepalese culture while taking part in vibrant festivals and sampling the local cuisine.
Wildlife Safari Adventures
Nepal provides a variety of opportunities for wildlife enthusiasts to explore its different habitats. An endangered one-horned rhinoceros and Bengal tigers may be found in Chitwan National Park, a UNESCO World Heritage Site. For a memorable wildlife adventure, go on an exhilarating safari through the lush woods, look for rare bird species, and see elephants taking a riverside bath.
Adventure Sports Galore
With its abundance of adventure sports, Nepal is a sanctuary for thrill seekers. Prepare yourself for thrilling white-water rafting along the rivers, a tranquil lake paragliding over Pokhara, or a daring mountain bike adventure. No matter if you're an expert explorer or a novice looking for adventure, Nepal's varied topography offers countless chances for unique, heart-pounding encounters.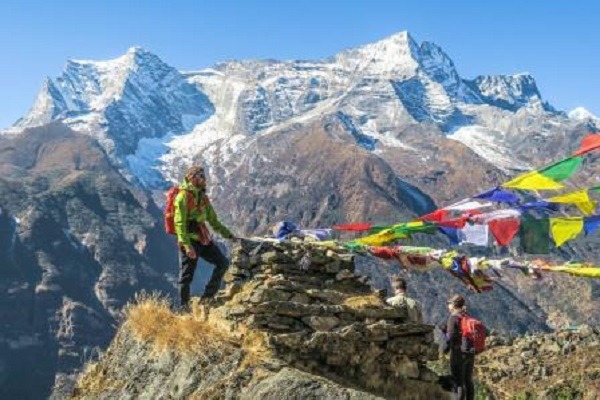 Serene Spiritual Retreats
Nepal, famous for being the birthplace of Gautama Buddha, is of great spiritual significance. Visit revered Buddhist monasteries, meditate in calm mountain retreats, or take part in a yoga retreat while surrounded by the meditative beauty of nature to find inner peace. The spiritual atmosphere of Nepal and the kind attitude of its people make it the ideal location for a mindful travel encounter.
Volunteering Opportunities
Nepal offers countless volunteering options for travelers seeking to make a positive impact. Engage in community development projects, support rural education initiatives like teaching English in kindergarten, or contribute to saving stray dogs. If you volunteer abroad in Nepal, you not only get a chance to immerse yourself in the local culture but also create a lasting difference in the lives of the Nepalese people.
Warm Hospitality
People from Nepal are known for being kind and hospitable. As you stay in homestays or engage with residents in isolated mountain communities, you may experience their warm hospitality. Enjoy their delicious cuisine, immerse yourself in their lively culture, and see their unshakeable fortitude. On your adventure, the Nepalese people's warmth and compassion will be imprinted forever.
Unique Souvenirs and Handicrafts
Nepal offers a wide variety of distinctive goods and mementos, making it a shoppers' delight. Discover the vibrant marketplaces of Pokhara and Kathmandu, where you can purchase fine handmade jewelry, elaborate wood carvings, and thangka paintings. Each item has a unique tale to tell and enables you to bring a bit of Nepal's rich culture and workmanship home.
Finally, Nepal is a fascinating vacation destination that provides the ideal fusion of scenic beauty, cultural history, adventure, spirituality, and chances for mindful travel. From the stunning Himalayan peaks to the kind locals, Nepal lures those looking for a life-changing and unforgettable experience. Whether you're a lover of the outdoors, looking for adventure, or exploring another culture, Nepal is sure to enchant you and leave you wanting more. Take this remarkable adventure and learn about the enchantment that lies within the Himalayas.